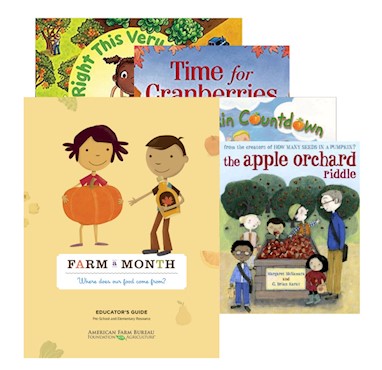 Farm A Month Book Bundle
$95.00
Item ID: AE-MONTH20-013-001
Size & Type:
Unit Quantity:
We've updated some books in our Farm a Month Book Bundle. In this bundle you will receive a copy of Farm a Month Educator's Guide and 12 books. (This guide still lists old books; for a revised copy of the Farm a Month lesson plan download it here.)
Books in the bundle:
Maple Syrup from the Sugarhouse
Popcorn Country
The Fruits We Eat
The Apple Orchard Riddle
Right This Very Minute
How Did that Get in my Lunchbox ?
PB&J Hooray!
The Very Oldest Pear Tree
Extra Cheese, Please!: Mozzarella's Journey from Cow to Pizza
Pumpkin Countdown
Thanksgiving is…
Time for Cranberries
For permissions for reading books online, click here.