Dive In! Exploring The Science Of Water And Food Production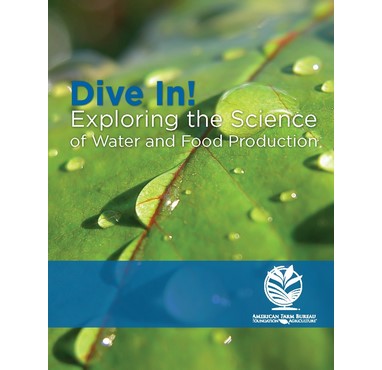 Dive In! Exploring The Science Of Water And Food Production
FREE
Item ID: AE-WATER15-001-001
Size & Type: 8" x 11"
Unit Quantity: 1
These Problem-Based Learning methods will engage students in the science of water and food production. Best for 6-8th grade students. Questions include:
Why do we need water?

Where does water come from?

Is all water the same?

How can we responsibly use water?

How can I be involved with water?
Download for free here!
Accompanying online career module can be found here
Customer Service
Monday through Friday
8:30 a.m. to 4:45 p.m. (EST)

Materials Order Department
800-572-1090

orders@fb.org
American Farm Bureau Federation
600 Maryland Avenue, SW,
Suite 1000W
Washington, DC 20024
202-406-3600
Fax 202-314-5121
Return Policy
You may return all items purchased at the Farm Bureau Store within 30 days of the original product delivery date. We will pay the return shipping costs if the product is defective or being returned because of our error. If the item is returned for any other reason, you are responsible for the return shipping cost and a $5 restocking fee. Items should be returned in their original product packaging. We will credit you in the same manner as your original payment within 7-10 business days of receiving the returned items.

If you need to make a return, please email orders@fb.org for shipping information.
Privacy Policy