Farm A Month: Where Does Our Food Come From? Educator's Guide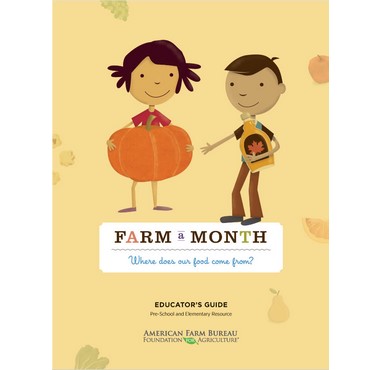 Farm A Month: Where Does Our Food Come From? Educator's Guide
$25.00
Item ID: AE-FARMTHLP-004-001
Size & Type: 36" x 24" map
Unit Quantity: 1 Lesson Plan Set
This Pre K – Elementary resource includes 12 activities that each feature a different commodity (one per month for a year), 12 letters from farmers who own that type of operation, a large (36 x 24") US map, and stickers for each of the commodities & farmers to place on the map.

Commodities featured: maple syrup, popcorn, peaches, pears, apples, pumpkins, turkeys, cranberries, cheese, lettuce, oranges and grapes.

The resource also has suggested snacks and books for each activity. Great for teachers to incorporate agriculture every month into their classrooms!

Pairs well with the following 12 books:

Sugarbush Spring; The Apple Orchard Riddle; Time for Cranberries; How Many Seeds In A Pumpkin?; Turkeys; Extra Cheese, Please?; Popcorn!; How Did That Get In My Lunchbox?; Mr. Putter & Tabby Pick The Pears; From Oranges To Orange Juice; California Grapes; and From Pit To Peach Tree.