Seed Soil Sun Educator's Bundle With Book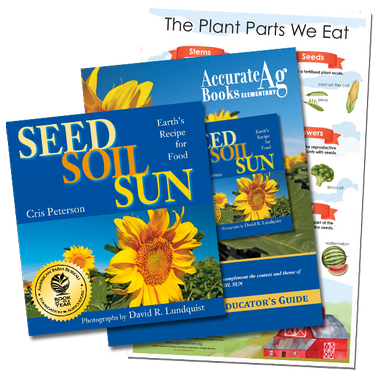 Seed Soil Sun Educator's Bundle With Book
$15.00
Item ID: AE-SSSBNDL3-001-003
Size & Type: 9" x 10.5", 32 pages; 8.5" x 11" guide
Unit Quantity: 3 pieces per bundle
In this clearly written and beautifully photographed book, author Cris Peterson the miraculous process by which air and water combine with seed, soil and sun to create nearly all the food we eat.

Target Reading Level: Ages 4-8 and Grades 1st – 3rd

Winner of the AFBFA's "Book of the Year" Award.
Subject matter focused. Agriculturally themed lesson plans meet National Learning Standards and teach reading, math, science, social science, health, and nutrition.

Great resource for classroom visits or thematic unit related to agriculture and nutrition.
Full color pictures, proper names, descriptions, and classifications of vegetables.

Great resource for classrooms and cafeterias.
For larger quantities please call or e-mail the AFBFA 1-800-443-8456 or foundation@fb.org
---
Featured Items