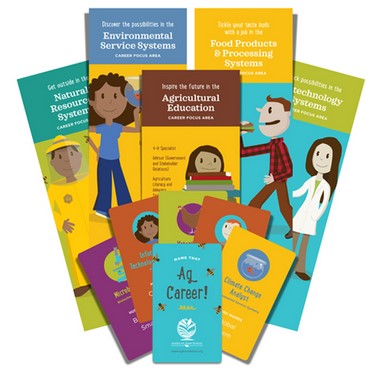 Career Kit Bundle
$18.00 $15.00
Item ID: AE-CKBUN-001-002
Size & Type: 1 pack of cards, 1 pack of 9 posters
Unit Quantity: 2 pieces per bundle
Bundle includes 1 pack of "Name that Ag Career" cards and 1 pack of 9 Career Posters available together at a discount.
Includes 9 colorful posters on the following career focus areas: Power, structure & technical services; Plant Systems; Natural Resources; Food Products and Processing systems; Environmental Service systems; Biotechnology Systems; Animal Systems; Agricultural Education; and Agribusiness Systems

Great for decorating classrooms!
This fun card deck engages students in a guessing game to test their knowledge of ag careers!

Includes several blanks for you to create your own
Download the FREE accompanying curriculum for 6th-8th graders
here.